Lola's Last Ride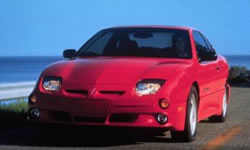 Today I sold the love of my life into American servitude.
Mi piquante tamale Lola, my beloved lipstick-red Sunfire, has ended her wild ride as my spicy chariot of fun. I loved her well. But now she must move on to fill her destiny elsewhere. Tomorrow she rides into the west (like the Elves before her) and then southward to her new home as Canadian import tamale-of-love in Seattle. Yes, she now belongs to Skotty and Shannie. I rest easy knowing that at least she's still family.
Farewell Lola-love, little money-sucking troublemaker extraordinaire. I'll never forget our time in the sun. Or snow. It was a helluva ride.
"Lola... lo lo lo lo Lola... lo lo lo lo Lolaaaa..."